What Do You Do?
I work with relationships. The relationship can be the one you have with your family, your employer or, what I most often work with, your spouse or significant other. Regardless of which relationship you bring to the work, there is one relationship that is ALWAYS involved with the process: The relationship you have with yourself.
Change, real change, is hard. That's why so many of us avoid it. Change brings with it, turmoil. dis-quiet, even chaos. These are conditions which lead people courageously to a therapist's office. What they think is that they are weak, failing or worse, flawed beyond repair.. What they often fail to see, at least for a time is that transformation is often a consequence of our encounter with life's inevitable adversity. Moreover, without knowing it, they already possess the one thing they need to move through the chaos: Courage. When we realize what we need we already have, then shifts begin to occur. Relief is found. Strength is rediscovered. Acceptance is gained.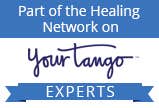 How can couples therapy help you and your relationship?
Here are some ideas . . . . .